In 2003 blended learning was recognized to be one of the top ten emerging trends in the knowledge delivery industry by the American Society for Training and Development.¹
Nowadays the pandemics has brought back the need to find new ways to deliver knowledge and blended learning can be a good solution. But, what do we mean by blended learning?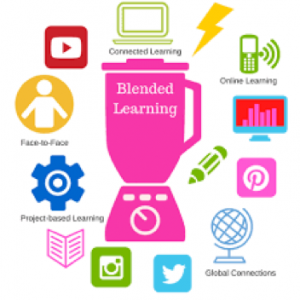 There are a lot of definitions that have been given but the main concept is always the same: mixing face to face teaching with multiple online learning techniques and materials.²
Since 2002, when some University in California started delivering knowledge using both face-to-face lessons and internet, there has been no fixed pattern for blended learning but the possibilities are endless.
In 20 years many changes have occurred and online possibilities are now many more and diverse. Moreover, the new challenges of Didattica a Distanza have given us the chance to explore new possibilities.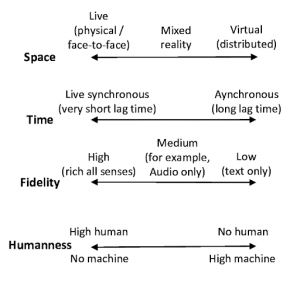 The elements that play a role in Blended learning are mainly four: Space, Time, Fidelity and Humanness. The different mix of the four elements gives life to an infinite number of activities³ such as flipped classroom, team-based learning, experiential learning, problem-based learning, cooperative learning and many more.
________________________________________________________________________
¹ Graham, Dziuban, Blended learning environments, Handbook of Research on Educational Communications and Technology: A Project of the Association for Educational Communications and Technology, 2007.
² G.Picciano, Blended Learning: Research Perspectives, Volume 2, Routledge, 2013.
³ Curtis, Bonk, Graham, The Handbook of Blended Learning: Global Perspectives, Local Designs, 2005.

Pros and cons
Like every other teaching approach, blended learning has both pros and cons.
PROS
Personalisation – blended learning gives the possibility to match students' needs

Time management – Online materials are available anywhere at any time 

360° Educational experience thanks to the varied material provided
CONS
Organising a blended

unit

is time consuming

Technology sometimes can be challenging

Time spent in front of a screen increases
Examples
The following examples are meant to be just general outlines of what teachers can plan for a blended teaching unit.
A DAY IN THE LIFE OF… | FOCUS ON WORK
Vocabulary for jobs and skills required

Interview somebody asking him/her about the tasks involved in his/her job and the skills needed
TV Series – Dirty jobs. Let your students choose an episode and investigate a particular job that is not that common in their area
Strange jobs around the world – group research (Dabawalla, Train pusher, Smokejumper…)
Write a paragraph on the job you find perfect for your teacher
WHERE LIFE IS TOUGH | FOCUS ON WAR LITERATURE
START CREATING YOUR OWN BLENDED LESSON